Helping Estheticians raise standards with national credentialing and continuing education accreditation.
Getting the National Esthetician Certification is the highest voluntary credential in the United States–raising the standards of our profession beyond entry-level licensure. The NCEA Certified credential signifies the value and credibility for consumers in determining the expertise and training of an Esthetician. The NCEA Certified credentialing exam provides a standardized, valid, legally defensible exam using psychometric principles.
The NCEA continues to educate state regulatory boards and legislators (and other professionals). They need to know that the NCEA Certified credential's competency-based exam evaluates the Esthetician's skills and knowledge at a 1200-hour level. NCEA created this affordable pathway for endorsement and/or reciprocity, (exchanging your license) so you can move to another state with higher hours and get a license and/or Advanced or Master Esthetician License. 
The majority of states still only require about 600-hours (or less)of schooling in order to get a license. We now have over a dozen states that require more hours. (a good thing!) An Esthetician moving from a 600-hour license may be required to go back to school, even with years of work experience. (a bad thing!) We are losing Estheticians from this profession due to these roadblocks!
Many states are now recognizing in rule or law that the NCEA Certified credential can be used for equivalency, thereby allowing the Esthetician to exchange their license in that state. (and saving the Estheticians $$ from going back to school.) By ensuring the Esthetician's competency through the NCEA Certified credential, a state regulatory board can meet their mission of protecting the consumer and keep Estheticians working in the profession they love.
To learn more about Certifications and why they make sense for your career, read this article published by INDEED here
NATIONAL CONTINUING EDUCATION ACCREDITATION (COA)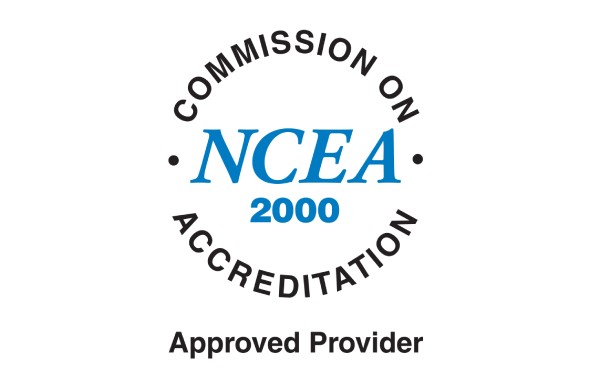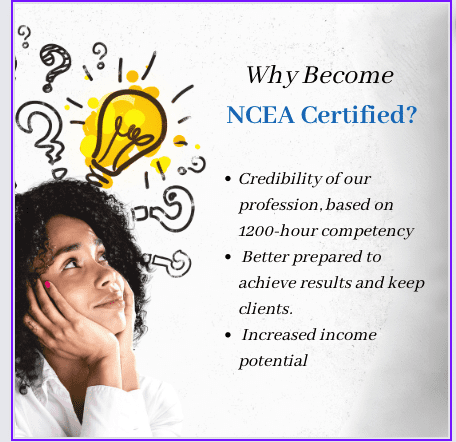 HERE IS WHAT ESTHETICIANS ARE SAYING…
"The NCEA made getting my Master Esthetician License in Washington so uncomplicated. Being a member, getting my NCEA Certified credential will motivate me to continue my education."
–Regan Jordan-Carney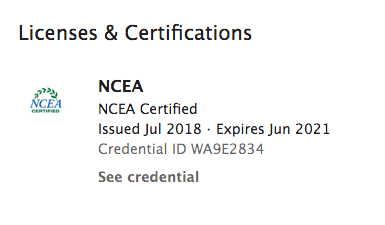 Online Proctored Examinations
No more driving to a testing facility to sit for the National Esthetician Certification Exam! With a computer and a smartphone, you can test in the comfort of your home or office.
NCEA's ALUMNI PAGE IS LIVE!
UPDATE YOUR LINKEDIN PROFILE TODAY
Search for your LinkedIn Profile under Licenses & Certification – search for NCEA Certified. Enter your Credential Issue and Expiration Date and your Credential ID.
Be sure to use these hashtags in all Social Media Posts
#NCEACertifiedAlumni #NCEACertified #NationalEstheticianCertification